MPS has provided SW/FW services on Interface Masters Systems since 2007
MPS is currently providing SW/FW for Interface Masters programmable NICs
---

Moore Performance is a QOSMOS Expert Developer (QED). Our core competency includes Deep Packet Inspection (DPI)
using high-performance processing platforms and real-time architectures, and we have acquired specific expertise in
developing solutions based on Qosmos ixEngine. We can serve as an extension of your in-house resources and make it
easier to embed DPI /Network Intelligence Technology into your applications. For more information on QED network, please click the Logo below: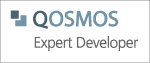 ---
MPS offers sales, supports, and services around our Business
Partner, 6WIND's Network SW, which is optimized for the
complex, but high performance platforms we specialize in.